31 Mar

Femme the Future: Chloe x Halle showcase Gen Z Excellence on a masterful debut

It's amazing how much technology has helped us in recent years. Not just seeing the world in a different light but discovering artists and future stars quickly, the same way Beyoncé did with Chloe and Bailey. It also in a sense shapes the thematic point of view of the sister duo's excellent debut album. An 18-track LP full of lush harmonies, futuristic production, and lyricism inspired by their world that is decade two of the 21st century. After all, they did start out on Youtube.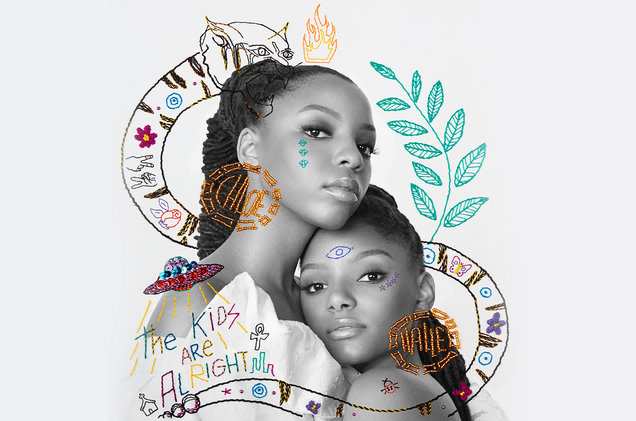 In the 2 years since Queen B signed them, they've opened for her on tour, performed for the Obama's, released a brilliant experimental mixtape and a commanding EP and achieved mainstream recognition as stars on Grown-ish. Yet, they still maintain artistic respectability and indie appeal. They belong to a new generation of female stars who possess an autonomy of their sound, their image and how they want to be represented.
Hello, Friend starts out as a note to self. It recalls methods of self-care applied humorously by Issa Rae on Insecure and probably most of us before stepping out of our cars at work or homes to face the dreariness and messed up world that exists today. In this case, they do this with otherworldly vocal arrangements. It segues beautifully into the title track The Kids Are Alright, a torch song that speaks particularly to Generation Z and doubles as both a statement of their strength and potential with lines like Everything is new cause we about that innovation/Call it how we see it we a genius generation and changing work climates (Workin' ain't no nine to five) It's an anthem for young people all over. It also happens to be very timely as well, with global events that affect the general wellbeing of youth everywhere. Another track touching on the need to breathe is the brilliant Down (So can we have the remote to the TV called life?/Can we play fast forward rewind?).
There is a slickness to this album, a mastery of songcraft that is way too impressive for a debut record which is a testament to their preternatural talent as gifted vocalists and an understanding of melodies and arrangements. The Joey Bada$$-assisted contemporary R&B highlight Happy Without Me is a fantastic showcase of their vocals and writing as well one of the interludes called Baptize that speaks to the unwavering strength found in the current generation with vocal layering and harmonization creating an atmosphere reminiscent of R&B classics like Brandy's Full Moon.
It's very easy for songs about affirmations, haters and positive manifestations to fall into cheesy territory and cliches but tracks like Everywhere, a stomping trap-pop number which you can't help but dance to with a big grin on your face is a club banger waiting to happen while Fake, insane percussions and vocal layering is a standout for that punchy hook (That fake love they braggin'/That fake woke hashtaggin') and an impressive assist from rising rapper Kari Faux. Hi-Lo is one of the illest self-love songs I have ever heard-cookie cutter teeny-bop stars these girls are not.
The Kids Are Alright is a genre-bending experience which flips the script of what the term R&B can be. It's a bold way of announcing their industry arrival while still leaving so much room to grow and expand their craft. To think this was recorded in their living room! The accompanying ten-minute short film is a lush high art piece in the vein of their Parkwood mentor's iconic Lemonade visual. The super stylish joint co-stars Moonlight's Ashton Sanders and portrays a young adult dreamscape with carefreeness peppered throughout. These are two young women who recognize and understand their art using their femininity and are not afraid to challenge people's notions of what kind of stuff a black girl can create. Now that is Grown as hell.